About Thrifty Gryphon...
Thrifty Gryphon is a creator of bracelets, homemade gifts, and more. All of the goods have been repurposed or are made from repurposed materials. The main collection of goods includes leather Bracelets perfect for every free spirit, steampunk, or leather loving heart. These bracelets can be purchased here on the website. I also sell these bracelets at various festivals and conventions throughout the year. These festivals and conventions are the heartbeat of Thrifty Gryphon and showcase what I am all about! It is at these festivals and conventions where you will find my painted glass, steampunk/victorian boxes, pony tails, gently used/repurposed apparel such as victorian wear, steampunk, corsets, and much more. Visit the Events page for a list of upcoming events. I look forward to meeting you there!
Meet Artemis...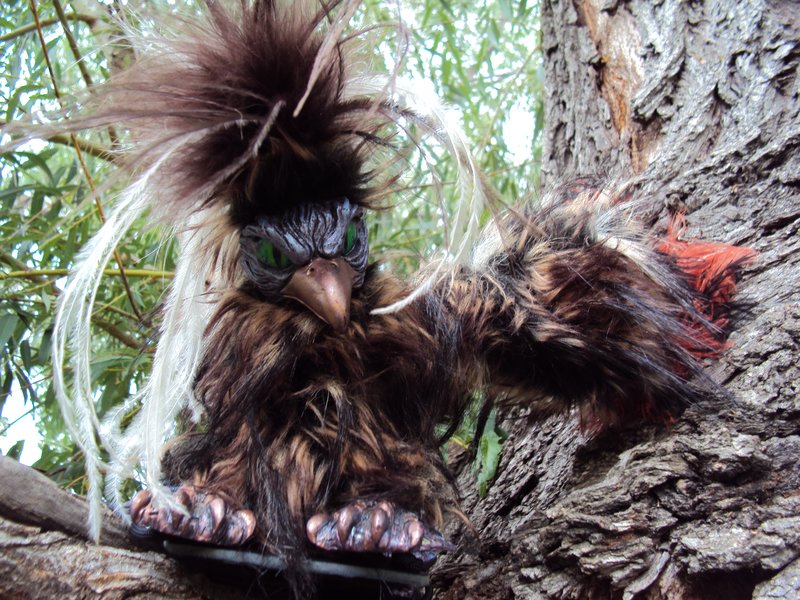 Adopted on June 26th, 2016, Artemis entered the business world of Thrifty Gryphon as my new mascot and associate. As gryphons often do, Artemis enjoys finding treasures and hoarding them in his nest. His favorite treasures to collect are fairy stones, buttons, and hair barrettes. Artemis is a mischievous gryphon. He loves to hack my facebook page and post selfies. If something goes missing, I simply check his nest. Though he is quiet, his loves people. He especially loves children and the way they pet him. He loves conventions and festivals and can often be found hanging out on my shoulder or resting in his nest.

Becoming A Gryphon...
I love dressing up and going to fun events like the Renaissance Festival, Steampunk conventions, Fairy festivals, and the like. I often go thrifting and pick up all sorts of goodies that I repurpose and transform. I often received comments on my creations and my friends began asking me to create items for them. I used material found at the thrift store, but often had extra material, leather, etc. that I would just throw into a pile. However, that pile of extra "stuff" began to grow and I ended up with an overflowing monster instead of a neatly organized scrap pile.
The solution: make more stuff.
The problem: now I have too much stuff.
The solution: create a business and sell all the stuff.
In March 2015, I launched Gypsy Repurposed Designs, LLC. For one year, I built up my business and tried my best to break into the convention/festival scene. I completed one festival with some success and fortified the idea and image of my business. Upon beginning an exciting second year for my business, I found that I was being turned away from festivals and conventions due to my business name. Unknown to me at the time, there was big controversy overseas concerning the word "gypsy" and the negative connotations it had. As this controversy
began to impact the US, I found pushback from conventions and festivals because my business name contained the word "gypsy". To me, "gypsy" meant "free spirit". However, I researched the issue and asked many for their opinions. In the end, due to cultural differences, I decided to change my business name. At first, it was terrifying, but quickly became exciting as I dove into the many possibilities of a brand new image for my business. In the end, Thrifty Gryphon was born and I couldn't be happier!